Resource efficiencies
We rely on precious resources to drive our operations and this reliance comes with a duty of care to ensure we draw on finite resources responsibly. It's also about being mindful of our outputs – our waste – and how we handle unwanted by-products to minimise environmental harm and embrace the notion of a circular economy.
Preserving water in our operations
Water conservation isn't simply about limiting demand on local water sources – although that's certainly part of the picture. It's also about good management of the wastewater produced from our manufacturing processes. Our sites are focused on lowering their water use and implementing technology that maximises water efficiencies in our factory processes.
Safely cleaning our machinery accounts for 85% of the wastewater generated at our Roal Oy production site in Finland. Faced with a further increase in wastewater following an expansion in the factory capacity, our engineers looked for ways to reduce wastewater, energy use and chemicals in the machinery cleaning operations. Using a combination of new cleaning products, reduced water temperatures, and re-programmed software, substantial improvements to the cleaning processes positively impacted the quantity and quality of wastewater.
Investment in our water cooling and free-cooling technology resulted in a significant 85% decrease in annual water abstracted for use in our manufacturing processes.
Improving deliveries to reduce emissions
Our workforce is engaged with our sustainability ambitions. We encourage and embrace their innovative thinking and ideas to make improvements. Our people have found creative ways to reduce emissions by improving our delivery processes and consolidating the number of shipping containers to reduce our GHG emissions in transportation. 
Circular economy
A circular economy re-uses as much as possible. It's an approach that wastes less and reduces dependence on raw material extraction through better resource management, improving how products are made and repurposing waste where possible.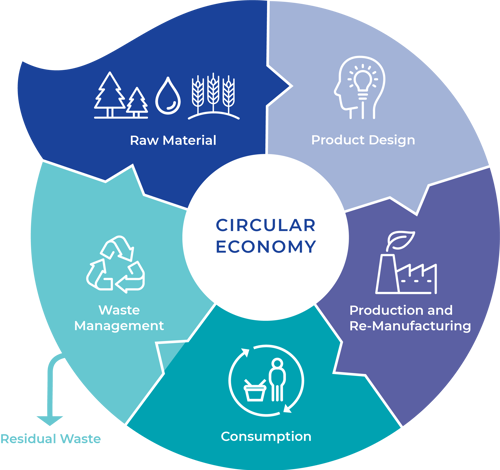 Biogas from waste
Over recent years, our teams have researched better ways of disposing of waste. For examples, we began collaborating with other companies to use our wheat flour and dry enzyme waste streams as materials to create biogas. This approach saves up to 200 tonnes of organic waste every year that previously went to landfill or was incinerated. Finding new uses for waste is an approach that we're looking to do more of, helping realise the untapped sustainability benefits of re-using waste.
Composting filtration waste
At our Roal Oy production site in Rajamäki, we found a way to eliminate potentially harmful organic material from our bacillus-based fermentation filtration waste and our plate and candle filtration waste. We began composting waste instead of incinerating it because this process emits 90% fewer carbon emissions. There are other benefits too. Composting elements of our waste means we can use the compost for soil improvements, contributing to the circular economy approach. This means we have reduced approximately 4,200 tonnes of CO2e per year.
Recycling 95% of our waste
We created a waste handling manual including detailed and colour coded local recycling guidelines for different wastes. Simple yet effective policies and procedures, and a genuine desire from our people to effectively manage waste. We are constantly improving our waste handling towards even more effective recycling and recovering practices.