Functional Plant Protein Hydrolysates
AB Enzymes' COROLASE® portfolio offers solutions for a variety of pulses and grains.
Level up your plant proteins' functional properties
In general, plant proteins show poor solubility, which limits their application potential. That's where enzymatic hydrolysis comes into play. It increases the solubility of plant proteins by reducing the molecular weight of proteins and by liberating hydrophilic groups which produces hydrolysates with a chemically defined composition. Further, these hydrolysates show specific functional properties.

AB Enzymes' is experienced with different raw materials, for example: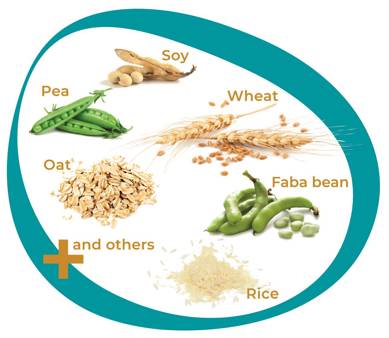 The portfolio allows to choose between different sorts of protein sources and protein modifications as well as preferred processing conditions. Depending on the raw material and the desired outcome, there is a broad range of application fields for enzyme treatments, for example:
Applications
Solubility
In general, plant proteins show poor solubility, which limits their application potential. Each raw material has a unique composition, which can be influenced by the type of processing. Enzymatic treatment with AB Enzymes' solutions has several benefits compared to other processing methods. COROLASE® enzymes increase the solubility of plant proteins which leads to greater application potential.
Application example: Protein-enriched drinks
Foaming
The foaming ability of plant proteins is closely related to the protein profile of the raw material. By treatment with COROLASE® enzymes the foaming capacity and stability can be improved.
Application example: Barista milk alternatives
Emulsification
For many processed foods emulsification is one of the most important processes. In most food emulsions proteins are the dominant component and can be used as emulsifying agents as well as emulsion stabilisers. With the help of COROLASE® enzymes the process can be improved by enhancing the emulsification properties of plant proteins.
Application example: Vegan mayonnaise

Not sure which product you need?
Our technical experts are pleased to help you select the right product or product combination that fulfils your specific requirements. Just contact us and we'll find the right solution for you.